News — new product
Posted by Sarah Weber-Purves on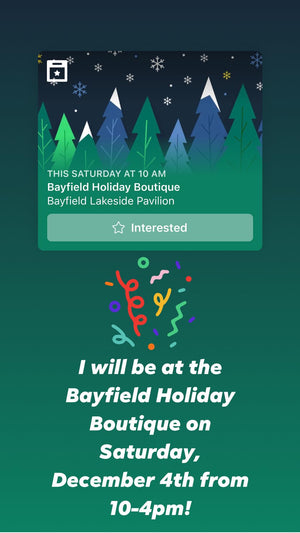 Sarah Weber-Silversmith will be in Bayfield, WI this Saturday (December 4th) from 10-4pm for the Bayfield Holiday Boutique.  Come and get your "shop small" shopping done for the Holidays, all while enjoying the festivities and gorgeous setting along the shores of Lake Superior.  Bayfield Lakeside Pavilion 2 Front St. Bayfield, WI. 54814 10-4pm
Tags:

Art Fair, Bayfield, Bayfield Wisconsin, Christmas, event, Events, Holiday, Holiday Boutique, Holiday shopping, Locations, new product, news, offer, sarah weber silversmith, shop small, shopping, show, small, small business, Sterling, Store Announcement, Store news, thank you, trunk show, update, winter season, Wisconsin
Posted by Sarah Weber-Purves on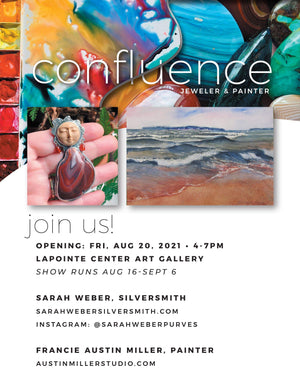 I am so honored to be presenting a bunch of beautiful new work along side fellow artist France Miller- someone I have admired forever and whose art adorns many a wall in my home. If you find yourself in the Bayfield/Madeline Island area in the next month, get yourself to the LaPointe Center! *Show runs August 16th through September 6th, with an open house on Friday, August 20th from 4-7pm. 
Tags:

Art Fair, event, Events, jewelry, Locations, new product, news, sarah weber silversmith, show, small, Sterling, Store Announcement, Store news, sws, trunk show, update, Wisconsin
Posted by Sarah Weber-Purves on
So many possibilities!  I am excited to get back into the studio and see what fabulous things we can create!